Congresses
Program of events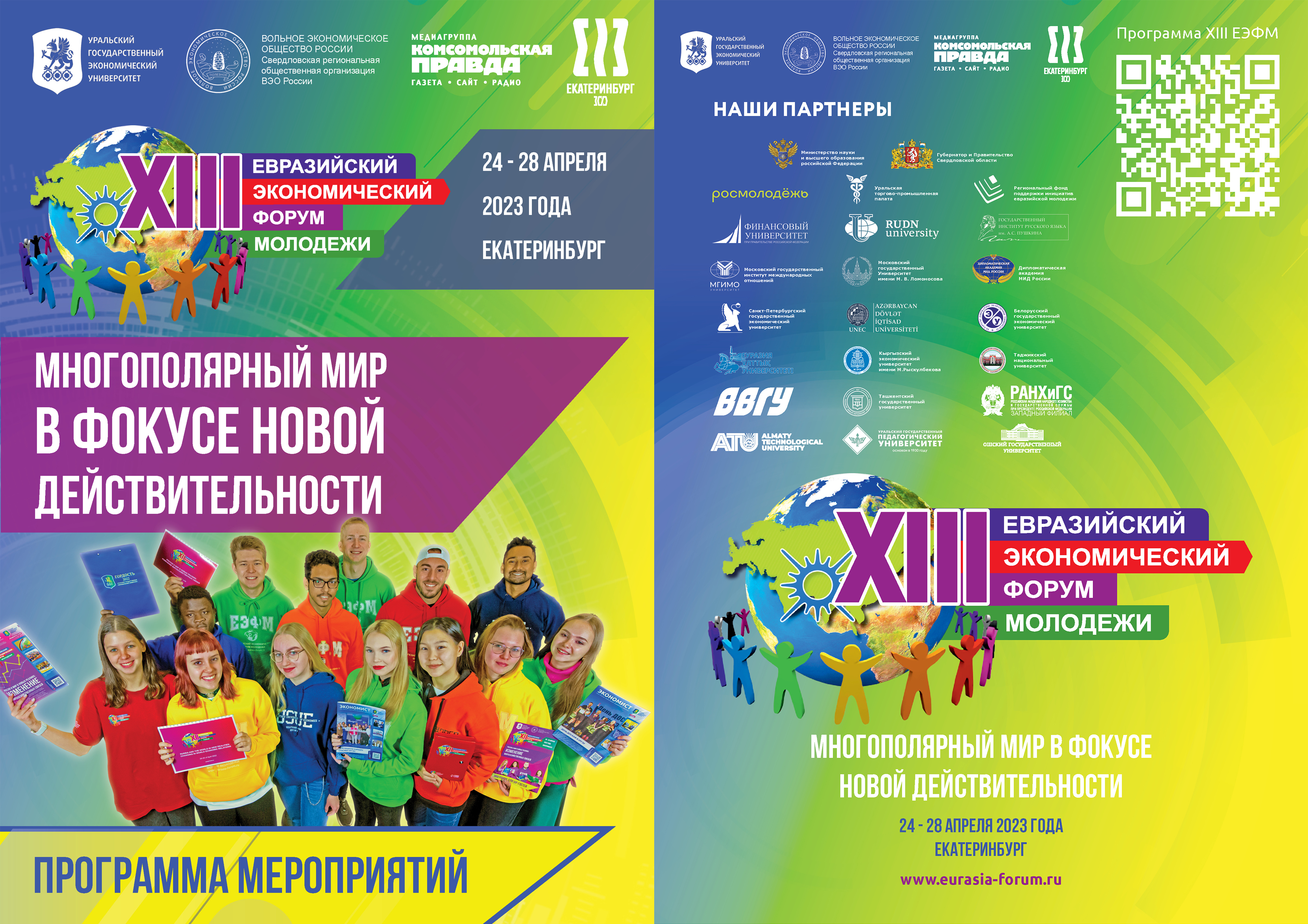 Conditions of participation
Registration fee - not provided.

Awards for winners and winners of competitions:

For each competition, the winners and prize-winners of the competition (directions of the competition, in accordance with the Regulations on the competition) are determined, who respectively receive diplomas of I, II and III degrees and orders of "gold", "silver" and "bronze";

The amount of the prize fund for the winners of the XII Eurasian Economic Youth Forum "Russia and the World in New Realities: Changing World Economic Relations" is determined individually for each competition and is indicated on the pages of this competition.
The winners of the competitions awarded with the Diploma of the 1st degree are awarded points for individual achievements upon admission to study at USUE under the programs:
magistracy - 2 points;
bachelor's degree (including for training according to individual curricula in an accelerated period - graduates of colleges, technical schools) - 5 points.
Participants who take 4,5,6 places in the competition or 1,2,3 places in the direction of the competition are issued certificates (in accordance with the Regulations on the competition). All finalists of the EEYF will be issued certificates of the finalist of the competition upon full-time registration.
Places of residence
Participants of the Eurasian Economic Youth Forum are provided with special rates for accommodation during the days of the Forum. When booking a room, you must indicate that you are a "participant of the EEYF".
Penaty Hostel 2*
Website: penates-hostel.com
Address: Yekaterinburg, st. Station, house, 23
Tel: +7 287 02 02, +7 922 0 346 346
e-mail: info@penates-hostel.com
№

Room category

Price per bed, rubles without breakfast

1

Six-bed room with bunk beds, individual lockers and lamps

600 rubles

2

Quadruple room with bunk beds, individual lockers and lamps

700 rubles

3

Triple Room with Single Beds, TV

1000 rubles/1 place

4

Single room: single bed, TV, kettle, tea/coffee, water

2500 rubles / day
(for the whole room)

5

Superior double room: double bed, with private bathroom and shower, TV, kettle, mini-bar, tea / coffee, water

3200 rubles / day
(for the whole room)
Apart-Hotel «SENSA ROOM»
Website: sensaroom.ru
Address: Yekaterinburg, st. st. Gorky 69/1
Tel: +7 (343) 222-27-27
e-mail: apart@sensaroom.ru
Room category

Cost for 1-2 people without breakfast, rubles /day

Cost with breakfast for 1 person, rubles /day

Price with breakfast for 2 persons, rubles /day

Studio Classic Green

3 700

4 300

4900

Studio Classic Grey

3 700

4 300

4900

Studio Classic Izumrud

3 700

4 300

4900

Studio Modern

3 900

4 500

5 500

The studios have everything you need, including: a kitchen with appliances and utensils, a washing machine, toiletries, Wi-Fi throughout, daily cleaning
Hotel Central by USTA Hotels 3*
Website: hotelcentr.ru
Address: Yekaterinburg, st. Malysheva, 74
Tel: + 7 (343) 312-37-37(доб. 4103)
e-mail: bron4@ustagroup.ru
| | | |
| --- | --- | --- |
| Room category | Number of people in the room | Price per day, rubles with breakfast |
| "Standard" with a double bed | One / two | 3 850,00/4 850,00 |
| "Superior" with a double bed | One / two | 4 000,00/5 000,00 |
| "Standard" with 2 separate beds | Two | 4 850,00 |
| "Superior" with 2 separate beds | Two | 5 000,00 |
| "Junior Suite" upgraded category | One / two | 5 700,00/6 700,00 |
| "Lux", upgraded category | One / two | 5 850,00/6 850,00 |
Renome Design Hotel
Website: renomme-hotel.ru
Address: Ekaterinburg, st. March 8, 50
Тел: +7 (343) 289-46-48
e-mail: 1@renome-hotel.ru
| | | |
| --- | --- | --- |
| Room category | Number of people in the room | Price per day, rubles with breakfast |
| Standard Single | 1 | 5100 |
| Junior suite single | 1 | 5900 |
| Suite Single | 1 | 6500 |
Marins Park Hotel Yekaterinburg
Website: sv-hotel.ru
Address: Yekaterinburg, st. Chelyuskintsev, 106
Tel: +7-912-032-77-15
e-mail: ShubinaEA@mphotels.ru
| | | |
| --- | --- | --- |
| Room category | Price per bed, rubles without breakfast | Price per bed, rubles with breakfast (buffet) |
| Standard Single | 1400 | 1800 |
| Standard single + extra bed for a second person (only for double occupancy) | 700 | 1100 |
| Standard superior single | 2100 | 2500 |
| Standard superior single + extra bed for a second person (only for double occupancy) | 1050 | 1450 |
| Standard superior double + extra bed for a third person (only for triple occupancy) | 1100 | 1500 |
Moskovskaya Gorka Hotel by USTA Hotels 4*
Website: mosgorka.ru
Address: Yekaterinburg, Moscow, 131
Тел: + 7(343) 312-37-37(доб.4103)
e-mail: bron4@ustagroup.ru
| | | |
| --- | --- | --- |
| Room category | Number of people in the room | Price per day, rubles with breakfast |
| "Standard" with a double bed | One/two | 3 850,00/4 850,00 |
| "Superior" with a double bed | One/two | 4 000,00/5 000,00 |
| "Standard" with 2 separate beds | Two | 4 850,00 |
| "Superior" with 2 separate beds | Two | 5 000,00 |
| "Junior Suite" upgraded category | One/two | 5 700,00/6 700,00 |
| "Lux", upgraded category | One/two | 5 850,00/6 850,00 |
Hotel Atlantic by USTA Hotels 3*
Website: atlanticekaterinburg.ru
Address: Ekaterinburg, st. Shcherbakova, 2
Тел: +7 (343) 312-37-37(доб. 4103)
e-mail: bron4@ustagroup.ru
| | | |
| --- | --- | --- |
| Room category | Number of people in the room | Price per day, rubles with breakfast |
| "Standard" with a single bed | One | 2 650,00 |
| "Superior" with double bed | One/two | 2 800,00/3 800,00 |
| "Standard" with 2 separate beds | Two | 3 600,00 |
| "Family", with 3 single beds | Three | 4 000,00 |
| "Junior Suite" upgraded category | One/two | 3 850,00/4 850,00 |
| "Lux", upgraded category | One/two | 4 250,00/5 250,00 |